Top Ten Tuesday is hosted by The Broke and the Bookish.
This week's topic: Authors I've Read The Most Books From
Straight forward this week: What authors have dominated our reading shelves? Who is our book president, who is the most popular kids on the book block?
NERD POWER.
This week, Kara and I share which author we have digested the most.
Kara's Authors
She's my friend, client, but also I just really fucking love her books. I don't edit for clients whose books I do not enjoy. It all started with her Experiment in Terror series, but since then she has moved on to tattoo artists, drug cartel leaders (Dirty Promises is the most brutal, disturbing book yet), Spanish soccer players, New Zealand backpackers, and a rock band from hell. If you haven't tried her books yet, pick your poison because she writes across genres: horror, romantic suspense, contemporary romance, who knows what she will try next?
Duh. What else is there to be said about this author at this point? I'm sure she's going to be on lots of lists, and I thought about leaving her off because of that, but eh. I wanted to be truthful. I wouldn't call myself a Potterhead, but this is definitely my favorite middle grade series at this time in my life. I haven't read her adult books yet because I don't think I would like them–the synopses don't really grab me. But maybe I will at some point.
I know I have more of her books to read, but I have read 7 of hers. Maria was one of the first writers I touched when I was getting back into young adult back in 2010. Obviously she drew me in to her stories, and I branched out and started reading many more ya authors, then finally creating a blog that evolved into the Great Imaginations we have today. I love her writing, her suspense, and her fantasy locales. Her lesser known duology, Inside Out and Outside In, is definitely one of my favorite dystopian plots.
Sarah Addison Allen is like my comfort writer. I read her books and feel content, like I'm snuggled under the blankets with a bowl of clam chowder (I don't love generic chicken soup). There's romance, mystery, magical realism, eccentric characters, and always great writing. She writes Southern settings in a way that makes me love them (I lived there and it ain't that great). I can't wait to see what books are next because she always blows me away with her ideas.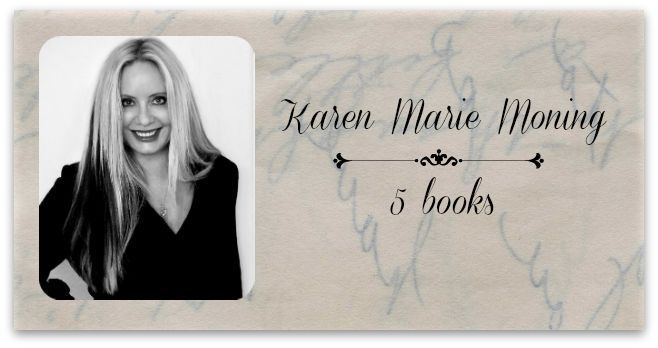 This was the first urban fantasy series that I read, and I still haven't read another one. I realize there are some great ones out there, and I do have some of them on my TBR, I just haven't had the time. But this series? It was fantastic. I haven't read the recent books she has added to it as I like where it ended, and I've heard some pretty awful things, so I think this is where I stop. If I ever read another KMM book, it will be from a new series.
Lyn's Authors
Back in high school, I was a little lost in the book department. I felt silly sticking with my old middle school favorites, but nothing the teachers presented to me sounded interesting. I had nothing to read in my free time (this was pre-Internet Days, young bloggers. You were on your own back then. No reviews, no blogs. It was the dark ages). I picked up a Stephen King book, and I liked it. I stuck with his books for a few years, before the boss at my first job told me I was crap for reading crap books, like King's novels. It was a long time until I read for pleasant again after that incident.
She's my favorite author. She spawned my favorite series, with my favorite female book character and my OTP. She's a sorceress, and her books have no peers. I'm not sure what else I can put here, but anything Taylor writes ends up in my hands ASAP.
The Second Book Age (the First Book Age was my Stephen King run back in high school) happened when I returned to college to obtain my B.S. in science 11 years after I finished high school. The SBA was inspired by my sudden interest in a book site that a friend had recommended to me: Goodreads. I was still trying to find my niche, so I started with popular books. One of the series that caught my attention was the Percy Jackson series, and I flew through the entire first series in 2010. Sadly, due to some comments made by the writer, this number will never grow, but I am grateful that Percy was one of the first book series to help me on the path to where I am now.
This actually breaks my heart. This is my favorite male author, and I have at LEAST 4 more of his books, but I haven't gotten to them yet. My goal is to revisit this topic in a year and push him up further on the list.
This couple has renewed my interest in paranormal fiction. I ripped through the Vampire Empire series, and I have read the first book in their next series. As I mentioned above, I hope this count is higher down the line. The power couple has released 2 more books in their series, and a 4th Vampire Empire book is coming towards the end of the year.
What are some of your top authors? Were you surprised by your top authors when you tallied your own totals?
Related Posts