Welcome to this week's Waiting on Wednesday. Waiting on Wednesday is a meme hosted by Breaking the Spine where we showcase upcoming releases we are looking forward to.
Err, uhhh, yeah. I had a little trouble making picks this week. Usually, I have future weeks planned, but i actually ran out of books this week so I had to kind of search randomly and just find what I could, but…I think I found a couple of good ones that I just came across. But no real theme this week, just randomness. So I'll keep it short and we can get to the books!
Title: Grave Images
Author: Jenny Goebel
Release Date: October 29th, 2013
Publisher: Scholastic


Description from Goodreads: A stylish debut mystery with the perfect balance of sweetness and scares!

Thirteen-year-old Bernie's summer is looking pretty grim. It's hard to make friends when your family runs a monument company, and your backyard is littered with tombstones. It's even harder when your mother suddenly refuses to leave her room . . .

To make matters worse, her father has just hired a new artist to engrave the headstones–the creepy Mr. Stein. Bernie has a bad feeling about him right from the start, and after snooping around his cottage, she discovers an engraved portrait of their neighbor . . . a woman who promptly dies the next day. And it's not just a weird coincidence. The pattern continues, and Bernie realizes that Mr. Stein has begun engraving headstones before people die, which forces Bernie to ask a horrifying question: Is Mr. Stein predicting the deaths . . . or causing them?
Title: Counting by 7s
Author: Holly Goldberg Sloan
Release Date: August 29th, 2013
Publisher: Dial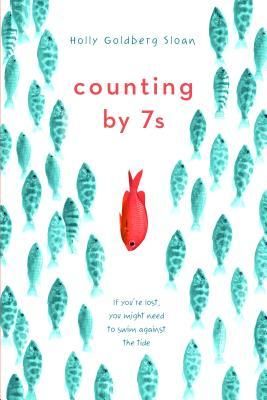 Description from Goodreads: In the tradition of Out of My Mind, Wonder, and Mockingbird, this is an intensely moving middle grade novel about being an outsider, coping with loss, and discovering the true meaning of family.

Willow Chance is a twelve-year-old genius, obsessed with nature and diagnosing medical conditions, who finds it comforting to count by 7s. It has never been easy for her to connect with anyone other than her adoptive parents, but that hasn't kept her from leading a quietly happy life . . . until now.

Suddenly Willow's world is tragically changed when her parents both die in a car crash, leaving her alone in a baffling world. The triumph of this book is that it is not a tragedy. This extraordinarily odd, but extraordinarily endearing, girl manages to push through her grief. Her journey to find a fascinatingly diverse and fully believable surrogate family is a joy and a revelation to read.
I hope you like my picks this week. I'm going to keep this short as my migraine is acting up again and I need to head to bed, but leave me a link to your posts and I will try to come visit. Happy reading, everyone. And 10 days until BEA at the time of this writing. It's Sunday night, FYI. Woot! I am so excited!
Related Posts