Welcome to this week's Waiting on Wednesday. Waiting on Wednesday is a meme hosted by Breaking the Spine where we showcase upcoming releases we are looking forward to.

This week I have two upcoming fall novels that I am looking forward to. One is definitely YA, and I think the other one is middle grade based on the age of the characters, but the cover doesn't look very MG. *shrugs* One may possibly be at BEA, and who knows, maybe the other will too. Either way, I love the covers and blurbs on both of these, and I am excited to bring more attention their way via my posting here today. Hopefully there is something you like.




Title: Until it Hurts to Stop
Author: Jennifer R. Hubbard
Publisher: Viking Juvenile
Release Date: Sept. 12th, 2013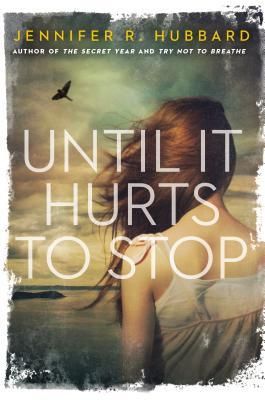 Description from Goodreads: When you can't trust anyone, how can you ever feel safe?

In seventh grade, Maggie Camden was the class outcast. Every day, the other girls tripped her, pinched her, trapped her in the bathroom, told her she would be better off dead. Four years have passed since then, and Maggie's tormentors seem to have moved on. The ringleader of them all, Raleigh Barringer, even moved out of town. But Maggie has never stopped watching for attacks, and every laugh still sounds like it's at her expense. The only time Maggie feels at peace is when she's hiking up in the mountains with her best friend, Nick. Lately, though, there's a new sort of tension between the two of them—a tension both dangerous and delicious. But how can Maggie expect anything more out of Nick when all she's ever been told is that she's ugly, she's pathetic, she's unworthy of love? And how can she ever feel safe, now that Raleigh Barringer is suddenly—terrifyingly—back in town?
Okay, a book about bullying. Normally I don't read about this topic since I was a victim of it in middle school, and contrary to what people believe, you don't ever forget, but something about this blurb and cover speaks to me. So I'm gonna try it. Those of you that have read Jennifer R. Hubbard, what do you think of her work?


Title: Wake Up Missing
Author: Kate Messner
Publisher: Walker Children's
Release Date: September 10th, 2013
Description from Goodreads: Meet Quentin, a middle school football star from Chicago… Sarah, an Upstate New York girls' hockey team stand-out…
Ben, a horse lover from the Pacific Northwest…
And Cat, an artistic bird watcher from California.

The four have nothing in common except for the head injuries that land them in an elite brain-science center in the Florida Everglades. It's known as the best in the world, but as days pass, the kids begin to suspect that they are subjects in an experiment that goes far beyond treating concussions….and threatens their very identities. They'll have to overcome their injuries – and their differences – to escape, or risk losing themselves forever.
Okay, first thing that grabs me is the Florida setting. There aren't that many books that use Florida as a setting. Which is weird because you would totally think that would not be the case. Also, I love Sci-Fi thrillers. And the idea that this is middle grade (at least I think it is), kind of thrills me. I need to have this book. Also, this is the one that is supposed to be at BEA so I really hope I can snag a copy.



So those are my picks for this week. Thoughts? Leave me a comment and I will try to reciprocate! Happy reading!


Related Posts