Publisher: Simon & Schuster Books For Young Readers
Release Date: August 27th, 2013
Genre: Middle Grade – Fantasy
Pages: 416
Source: ARC provided by Edelweiss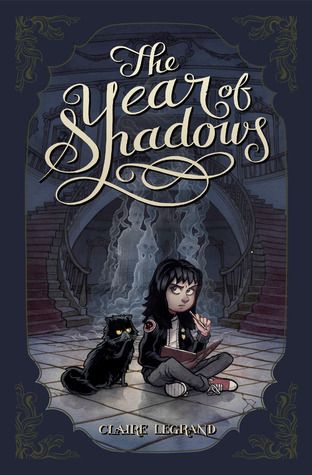 Description from Goodreads: Her mother left, her neglectful father — the maestro of a failing orchestra — has moved her and her grandmother into his dark, broken-down concert hall to save money, and her only friend is Igor, an ornery stray cat.

Just when she thinks life couldn't get any weirder, she meets four ghosts who haunt the hall. They need Olivia's help — if the hall is torn down, they'll be stuck as ghosts forever, never able to move on.

Olivia has to do the impossible for her shadowy new friends: Save the concert hall. But helping the dead has powerful consequences for the living . . . and soon it's not just the concert hall that needs saving.
Review: I suppose I am going to become the middle grade guru at this point. This genre tends to receive such little love. A majority of middle grade books seem, no pun intended, by-the-book, formula writing with a lack of layers and courage. I have some middle grade books that I love, but I never found one that jumped out at me and confronted real life tough subjects.
So I am proud to present one of the edgiest books I have ever read. A Year of Shadows targets a young audience, and actually has the courage to confront some very painful and taboo subjects for young readers. Legrand brings up emotional abuse, the failing economy and death all in one novel. Not only does she set out to write about some tough subjects, but she handles it with care and grace, and ended up writing a very sweet and compelling story.
The novel centers around Olivia, who is attempting to cope with a missing mother, a distant father, the loss of her home, bullying at school, loneliness and a sudden realization that ghosts exist. For Olivia, the ghosts allowed her to become focused on an issue that she could handle. The other things in her life, such as homelessness and her missing parent, are matters that are out of her control. Legrand gave the main character a dilemma that she could control, and her reader a wonderful tool for symbolism. The story basically boils down to accepting loss, and finding the good during a terrible time. Olivia, in the end, grows and strengthens her own sense of self without sacrificing who she is. Olivia is sarcastic, slightly bitter and abrasive, but she is able to incorporate a better outlook on a gloomy situation.
I also love the element of music in the book. Olivia is an artist at heart with an estranged composer as her father. The list of music is wonderful, and some lovely classics are listed in the book. I would highly recommend snagging some classical music before reading – no ghost story is complete without the classics!
The last thing I want to cover is the bittersweet relationships in the book. Reading about Olivia's struggles with her father was very painful, but I was happy that someone actually wrote about a parent that was a neglecting caregiver. A parent who is not emotionally responsible for raising children can harm a youth, but it is a hard crime to pinpoint. Quite often, children have no idea about the harmful side effects of this type of parenting until later in life. I have my own backstory of an emotional neglecting parent, and I never knew that there was a real issue in my house until I was well into college. I don't want to weigh down this post with my own sob story, but I will say that it was appreciated that the author brought attention to this dilemma. Moving off of the depressing points, Henry was one of the best elements of this book. I know I often complain about romance in middle grade books, but A Year of Shadows dodges this point and instead approaches the subject with something more along the lines of a crush or something that could bloom later down the road. The other cast, such as the Happy Place owners and the main ghosts, added a certain level of endearment to the book.
I will take a moment and add that this book, at certain times, was flat out depressing and very emotional. One of the backstories for a main character absolutely shattered my heart. It is rough, but I believe that an upper level elementary student or a middle grade child can appreciate the honest emotions of the book.
Overall, I loved this book. I believe it was a perfect blend of entertainment, morality and honesty. It might touch on some subjects that are difficult for some parents and teachers, but it is a wonderful story for a reader, young or old, who wants to tackle something with a little more meat to the plot.
5/5 Dragons
Giveaway:
Like what you see? Do you want to win this book? Fill out the Rafflecopter form below!
This giveaway starts on May 24th, 2013, and will end on June 7th, 2013 at midnight.
It's International because we will ship from The Book Depository!
You must be 13 years or older to enter
One email address per household. One Twitter account per entrant. Cheating the system will be monitored.
You will have 48 hours to respond to the winner's email or else someone else will be chosen.
Related Posts