Welcome to this week's Waiting on Wednesday. Waiting on Wednesday is a meme hosted by Breaking the Spine where we showcase upcoming releases we are looking forward to.


This week it's back to adult books. There are a couple coming out that I am REALLLLLLY looking forward to, and there is one I have been hanging on to a few weeks now and I am so glad I can finally post about it because, EPICCCCC. I guess I'll start with that one then.
Title: The Valley of Amazement
Publisher: Ecco Press
Release Date: November 5th, 2013
Description from Goodreads: Moving between the dazzling world of courtesans in turn of the century Shanghai, a remote Chinese mountain village, and the rough-hewn streets of nineteenth-century San Francisco, Amy Tan's sweeping new novel maps the lives of three generations of women connected by blood and history-and the mystery of an evocative painting known as "The Valley of Amazement."

Violet is one of the most celebrated courtesans in Shanghai, a beautiful and intelligent woman who has honed her ability to become any man's fantasy since her start as a "Virgin Courtesan" at the age of twelve. Half-Chinese and half-American, she moves effortlessly between the East and the West. But her talents belie her private struggle to understand who she really is and her search for a home in the world. Abandoned by her mother, Lucia, and uncertain of her father's identity, Violet's quest to truly love and be loved will set her on a path fraught with danger and complexity-and the loss of her own daughter.

Lucia, a willful and wild American woman who was once herself the proprietress of Shanghai's most exclusive courtesan house, nurses her own secret wounds, which she first sustained when, as a teenager, she fell in love with a Chinese painter and followed him from San Francisco to Shanghai. Her search for penance and redemption will bring her to a startling reunion with Flora, Violet's daughter, and will shatter all that Violet believed she knew about her mother.

Spanning fifty years and two continents, The Valley of Amazement is a deeply moving narrative of family secrets, the legacy of trauma, and the profound connections between mothers and daughters, that returns readers to the compelling territory Amy Tan so expertly mapped in The Joy Luck Club. With her characteristic wisdom, grace, and humor, she conjures a story of the inheritance of love, its mysteries and senses, its illusions and truths.
Title: The Abominable
Publisher: Little, Brown
Release Date: October 22nd, 2013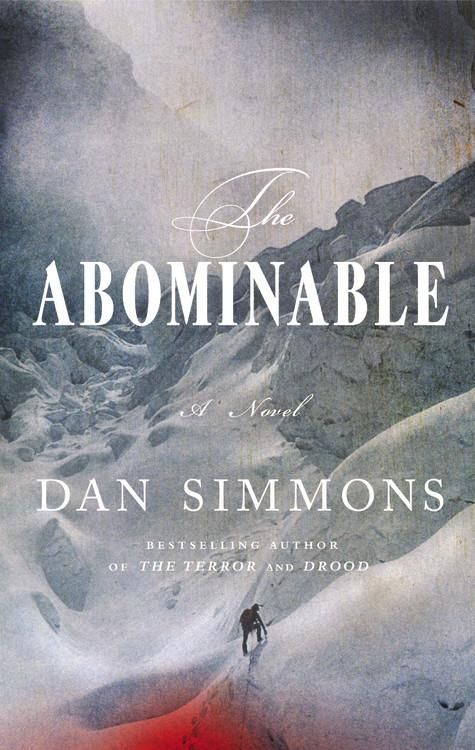 Description from Goodreads: A thrilling tale of supernatural adventure, set on the snowy peaks of Mount Everest from the bestselling author of The Terror.

It's 1926, and the desire to summit the world's highest mountain has reached a fever-pitch among adventurers. Three young friends, eager to take their shot at the top, accept funding from a grieving mother whose son fell to his death on Mt. Everest two years earlier. But she refuses to believe he's dead, and wants them to bring him back alive.

As they set off toward Everest, the men encounter other hikers who are seeking the boy's body for their own mysterious reasons. What valuable item could he have been carrying? What is the truth behind the many disappearances on the mountain? As they journey to the top of the world, the three friends face abominable choices, actions–and possibly creatures. A bone-chilling, pulse-pounding story of supernatural suspense, THE ABOMINABLE is Dan Simmons at his best.
So. A new book from the queen of Asian fiction, AMY TAN. I bought a couple of her novels used on my last trip to the used bookstore and I am hoping I can read them soon, but this new one sounds like something that was written expressly for me.

And I don't know what to think of The Abominable. Is it a horror? Thriller? Literary fiction? It's obviously historical, but I think the setting for this one is going to be just awesome. Oh, and I love the cover as well. Who knows? But I want it.

Thoughts on these two?


Related Posts