Welcome to Stacking the Shelves. Stacking the Shelves is a weekly meme hosted by Tynga at Tynga's Reviews. This is where we showcase books we have received or bought during the week.

I have been so sadly absent from reading right now because of some major things happening in my life, but a close friend insisted that I should run to the bookstore to relieve some tension. Afterwards, we had some wonderful Passover cupcakes and enjoyed some pizza. Books, food, and friends, what else can a girl want?

I should also take this moment to send Kara some love. She has been shouldering a huge burden while I am semi-out of action due to schooling. I see the light at the end of the tunnel, however, and I cannot wait to get back into my happy place and start reading again.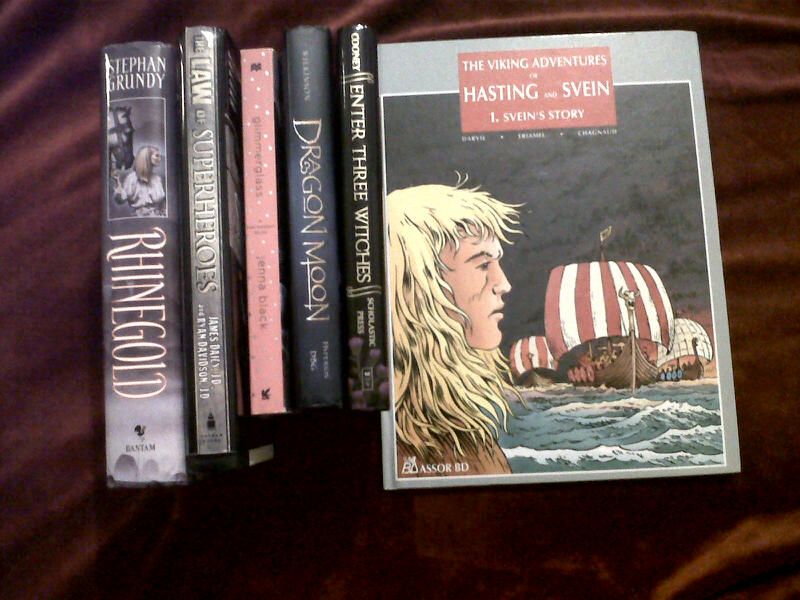 Rhinegold
by Stephan Grundy – I found this on a Goodreads list, and it was fairly cheap from Amazon. It looks very good!
The Law of Superheroes
by James Daily and Ryan Davidson – I couldn't resist when I saw this book sitting on the current titles shelf.
Glimmerglass
by Jenna Black – I read a review a while back, and it has been on my wish list for a long time now. I am excited to own a copy!
Dragon Moon
by Carole Wilkinson – I stumbled on this book on someone's TTT list one week, and I found it while browsing at the local used bookstore. Little did I know that it is the third book in a series. I suppose I will have to hunt for the first two books now.
Enter Three Witches
by Caroline B. Cooney – A Macbeth retelling? There was no way I was passing this one up!
What did you buy for this week? Leave a link below!
Related Posts