Publisher: Candlewick Press
Release Date: April 9th, 2013
Pages: 208
Genre: Middle Grade-Contemporary
Source: NetGalley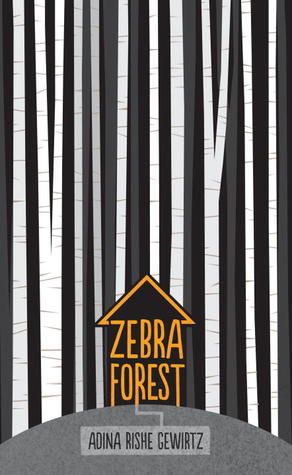 Description from Goodreads: In an extraordinary debut novel, an escaped fugitive upends everything two siblings think they know about their family, their past, and themselves.

When eleven-year-old Annie first started lying to her social worker, she had been taught by an expert: Gran. "If you're going to do something, make sure you do it with excellence," Gran would say. That was when Gran was feeling talkative, and not brooding for days in her room — like she did after telling Annie and her little brother, Rew, the one thing they know about their father: that he was killed in a fight with an angry man who was sent away. Annie tells stories, too, as she and Rew laze under the birches and oaks of Zebra Forest — stories about their father the pirate, or pilot, or secret agent. But then something shocking happens to unravel all their stories: a rattling at the back door, an escapee from the prison holding them hostage in their own home, four lives that will never be the same. Driven by suspense and psychological intrigue, Zebra Forest deftly portrays an unfolding standoff of truth against family secrets — and offers an affecting look at two resourceful, imaginative kids as they react and adapt to the hand they've been dealt.
This is the type of review most people really don't want to write. You know the type of book. It resonated with a close friend of yours and you thought you would love it, but you didn't. It's not that it was bad, it just didn't speak to you the way you were hoping. And it's the type of book you were really looking forward to. The cover was awesome, the blurb was awesome, it sounded unique, and just…yeah. But then you actually read it and were completely underwhelmed. And maybe your expectations got in the way. Maybe you are being unfair to the book because of those expectations. But either way, you just don't have a lot to say. This is me with Zebra Forest. When I first found this book in a catalog on Edelweiss and featured it on a Waiting on Wednesday post, I thought it was going to be epic. I was looking forward to it perhaps more than any book this YEAR! But it let me down. Bigtime. And in a lot of ways, I don't think it was the book's fault. Let me explain.
Right before I went to write this review, I talked to the blogger who adored it. Now normally I don't do this because I feel it influences my opinions and ruins the review. But in this case, I was feeling rather conflicted and like I was being unfair. I wanted to know what Bekka at Pretty Deadly Reviews loved about it so much. I thought maybe I was missing something. I thought my expectations may have gotten in the way. And I was really on the fence about my rating because there is a lot of good in this book, and like all things I do, I take reviewing very seriously. After talking with Bekka and hearing her side of things, I realized I still felt the same way I did, but I was blaming the book for something that was actually the fault of the blurb. And because of that, I have raised my rating to 3 stars.
The blurb is sooooo misleading, you guys. This book is not a thriller. It's not going to have you on the edge of your seat. NOT EVEN CLOSE. It is a contemporary story about a dysfunctional family and it's completely character-driven. It's short but it's not all that suspenseful either. This is not the middle-grade version of
The Last House on the Left.
But the blurb kind of makes it sound like it would be, doesn't it? Well that's what I thought anyway. And of course my expectations got in the way, and in this situation, I don't think it was my fault at all. But again, I want to be fair to the book.
The characters are well written. Not particularly likeable (Rew, anyone?), but I do think they will resonate with the right reader. Make no mistake, this is not a book for everyone. But it will speak to a select group of individuals who have been through similar situations. Those who know what it's like to have an ex-con as a family member. Those who have been neglected and have had to raise themselves and their siblings. Those that love their family but recognize the flaws they have.
The writing is unique: simple but poetic. Full of thematic elements and good vs. evil. I don't want to get into that too much but there is a lot of symbolism in this one and if you are that kind of reader, you will love it, I think. I did enjoy that part of the writing, and I quite enjoyed the author's voice. I feel that I may have connected to the story more if I had read Treasure Island recently because that book plays a huge role in this one. And it's also part of the symbolism. I haven't read it in years and I think I missed out on that part, but the rest of it I got and very much liked.
As to whether or not I would recommend this one, yeah I think I would. To the right person. Normally I have an idea of who this might be, but in this case, only you, the reader, can know if you think that is you. This is a deeply personal story and I think if you can't relate to what's going on in the book, you aren't going to like it. But I hope that my review helps you determine if that's you or not. Because the blurb certainly won't, and it does nothing good for the marketing of Zebra Forest.
3/5 Stars
Related Posts