Publisher: Balzer + Bray
Release Date: February 26th, 2013
Pages: 564
Genre: Young Adult–Dystopian
Source: I received an ARC from Annabelle at Sparkles and Lightning
Series: Partials Sequence #2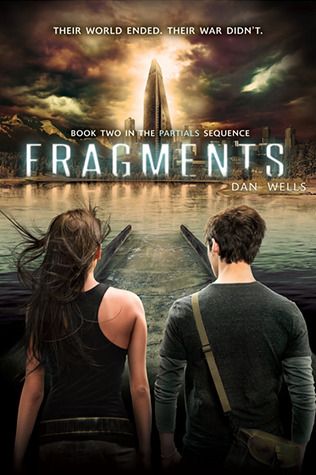 Description from Goodreads: Kira Walker has found the cure for RM, but the battle for the survival of humans and Partials is just beginning. Kira has left East Meadow in a desperate search for clues to who she is. That the Partials themselves hold the cure for RM in their blood cannot be a coincidence–it must be part of a larger plan, a plan that involves Kira, a plan that could save both races. Her companions are Afa Demoux, an unhinged drifter and former employee of ParaGen, and Samm and Heron, the Partials who betrayed her and saved her life, the only ones who know her secret. But can she trust them?

Meanwhile, back on Long Island, what's left of humanity is gearing up for war with the Partials, and Marcus knows his only hope is to delay them until Kira returns. But Kira's journey will take her deep into the overgrown wasteland of postapocalyptic America, and Kira and Marcus both will discover that their greatest enemy may be one they didn't even know existed.

The second installment in the pulse-pounding Partials saga is the story of the eleventh hour of humanity's time on Earth, a journey deep into places unknown to discover the means–and even more important, a reason–for our survival.
I hate writing book reviews for sequels. Like, hate, HATE doing it. For one, you have to be really careful what you say because spoilers, so that eliminates like 50% of your discussion material. And then less than half of the people who normally read your reviews are going to read a book two review because they haven't read the first book yet. Such is the case with Fragments. If you haven't read Partials, see you next review, but you should probably read it anyway, because it is AWESOME.
I maybe liked Fragments just a little bit less, and the reasons for that are simple. Pacing and characterization issues. AGAIN. It was the same as with the first book, and I officially think it is a thing with this author. The infodumping is cleverly disguised in dialogue and you wouldn't notice it unless you were honestly looking for it because he makes it flow really well, but it's there. And it bogs down the action a lot.
That's not to say that it's bad though, just different. It's not paced quickly like most YA novels are, and as such, has an enormous amount of crossover potential. That is also due to the incredibly epic world-building and some pretty in-depth scientific ideas that I think might bore certain readers. And if it's not your thing, that completely makes sense. For a sci-fi lover like me though, this book is sort of the holy grail of everything I love about post-apocalyptic fiction. And if you had a lot of questions at the end of Partials, a lot of them will be answered in this latest installment.
But we run into characterization issues again. And you know, it's kind of annoying because I think the characters in this novel have an enormous amount of potential, and their personalities are overlooked to focus on the plot. What ever happened to the well-balanced novel? Kira is awesome, but I still feel like I don't even know her that well. And that goes double for the others. We are introduced to a few new characters in this novel, and those are written a little bit better, but this story element could still use quite a bit of work.
When it's all said and done though, this is still a great sequel to a series that I am very invested in. There are a few flaws here and there, but the story makes up for it and so does the atmosphere. There are places in the novel where I got lost in the ages and really felt like I was there in the story.
Though if it's been a long time since you read Partials, and your memory stinks like mine, you might have a hard time remembering the details. But as I read, they started to come back. But that's one other really positive thing. No obvious rehashing of what happened in the last book. Because I hate that.
So if you are still reading and you've thought about giving this series a chance, here is where I tell you to do it. If you are a big dystopian reader like myself, I think you'll like it. I recommend it to fans of Julianna Baggott's Pure series, fans of James Dashner's Maze Runner series, and books of the like. It's definitely worth investing valuable reading time in. And though this one ends on kind of an anti-climactic note, book three is sure to be fantastic.
4/5 Dragons
Buy Fragments from Amazon
Related Posts