Publisher:
Philomel Books
Release Date:
March 22nd, 2011
Pages:
344
Genre:
Young Adult–Historical
Source:
I own a copy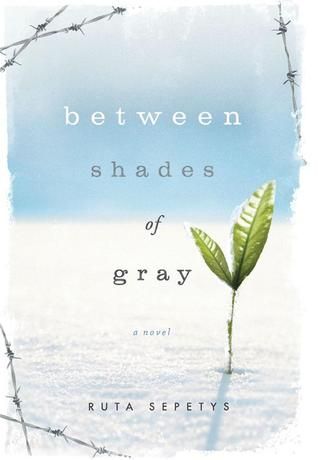 Lina is just like any other fifteen-year-old Lithuanian girl in 1941. She paints, she draws, she gets crushes on boys. Until one night when Soviet officers barge into her home, tearing her family from the comfortable life they've known. Separated from her father, forced onto a crowded and dirty train car, Lina, her mother, and her young brother slowly make their way north, crossing the Arctic Circle, to a work camp in the coldest reaches of Siberia. Here they are forced, under Stalin's orders, to dig for beets and fight for their lives under the cruelest of conditions.

Lina finds solace in her art, meticulously–and at great risk–documenting events by drawing, hoping these messages will make their way to her father's prison camp to let him know they are still alive. It is a long and harrowing journey, spanning years and covering 6,500 miles, but it is through incredible strength, love, and hope that Lina ultimately survives. Between Shades of Gray is a novel that will steal your breath and capture your heart.
Review: War is hell. This book makes this statement perfectly clear, and provides the audience with a new look into an old horror story: World War II. Coming from America, I sadly had no idea what Stalin had done to the Baltic countries, and reading about these voiceless victims of another fanatic dictator spreading fear and hate into conquered countries.
Between Shades of Grey is not for the light hearted. The suffering and the pain rips right through the reader from the start. I almost have no words for the feelings that bubbled to the surface as I read about Lina and her family during Stalin's war on parts of Europe. So much of the literature and the history tends to focus on the horrible events in Germany in this point in history. To this fact, I am not saying that we should ignore the genocide of the Jews under Hilter's rule. It was not a positive time for humanity, as a whole. I am still surprised that the same attention has not been given to the other stories of struggle in this time. If this information is present in the United States, then I sorely missed that entire lesson.
I rated this book so high based on one reason: I love the theme of persistence. No matter how many times I see the theme reoccur in books, I always fall for it. The entire statement that hope survives always snags me at the end of the hook. It keeps me going. Yes, this book was horrifying, but the whole arc of love, determination, and loyalty kept my own head above water. This book should be enjoyed for the history and the sheer will of the characters.
The only downside to the entire novel was the sense of detachment. Oddly enough, the story had a certain "sugar coating" that I found somewhat abrasive, reminding me of my childhood, when your parents didn't want to discuss what happened to your goldfish. Sepetys seemed to want to keep a certain innocence of the book. Instead of softening the blow to the emotions of the reader, it came across as slightly patronizing and removed. The ending also left me slightly miffed and cheated.
Overall, the book was wonderful, and I am thrilled that this book was so highly suggested when I revealed that it was on my shelf, waiting to be read.
4/5 Dragons
Related Posts