Welcome to this week's Waiting on Wednesday. Waiting on Wednesday is a meme hosted by
Breaking the Spine
where we showcase upcoming releases we are looking forward to.
This week I am back to focusing on middle grade fiction again. Over the last couple of weeks I have discovered some cute ones, and since most blogs I follow feature YA, I thought I would spotlight something that doesn't get as much attention. I need to read more MG, I really do. But I don't seem to get ARCs of those as much as I do YA and adult fiction, and I love them just as much. This is an eclectic blog after all! And that's part of the reason I chose Lyn as a co-blogger. Because her tastes are as out there as mine. I'd like to think there is something for everyone on this blog. One can hope.
Anyway, on to the middle grade books!
Publisher: HarperCollins
Release Date: September 17th, 2013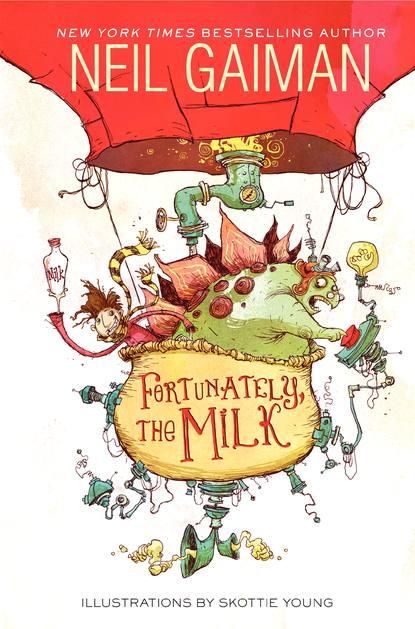 Description from Goodreads: A hilarious story of time travel and breakfast cereal, expertly told by Newbery medalist and bestselling author Neil Gaiman and illustrated by Skottie Young.

"I bought the milk," said my father. "I walked out of the corner shop, and heard a noise like this: thummthumm. I looked up and saw a huge silver disc hovering in the air above Marshall Road."

Hullo, I said to myself. That's not something you see every day. And then something odd happened….

When a father runs out to buy milk for his children's breakfast cereal, the last thing he expects is to be abducted by aliens. He soon finds himself transported through time and space on an extraordinary adventure, where the fate of the universe depends on him and the milk. But will his children believe his wild story?

Written by New York Times bestselling author Neil Gaiman and illustrated by award-winning artist Skottie Young, Fortunately, the Milk is an unforgettable book imbued with the magic of storytelling.
Publisher: Walden Pond Press
Release Date: September 24th, 2013
Description from Goodreads: From Anne Ursu, author of one of the most widely acclaimed and beloved middle grade novels in recent memory, comes a new fantasy adventure of magic, fear, and friendship.

On an island on the edge of an immense sea there is a city, a forest, and a boy. The city is called Asteri, a perfect city that was saved by the magic woven into its walls from a devastating plague that swept through the world over a hundred years before. The forest is called the Barrow, a vast wood of ancient trees that encircles the city and feeds the earth with magic. And the boy is called Oscar, a shop boy for the most powerful magician in the Barrow. Oscar spends his days in a small room in the dark cellar of his master's shop, grinding herbs and dreaming of the wizards who once lived on the island generations ago. Oscar's world is small, but he likes it that way. The real world is vast, strange, and unpredictable. And Oscar does not quite fit in it.

But it's been a long time since anyone who could call himself a wizard walked the world, and now that world is changing. Children in the city are falling ill, and something sinister lurks in the forest. Oscar has long been content to stay in his small room in the cellar, comforted in the knowledge that the magic that flows from the trees will keep his island safe. Now, even magic may not be enough to save it.

Anne Ursu, author of Breadcrumbs, has written another unforgettable story of transformation and belonging-a spellbinding tale of the way in which the power we all wield, great and small, lies in the choices we make.
Publisher: HarperCollins
Release Date: September 10th, 2013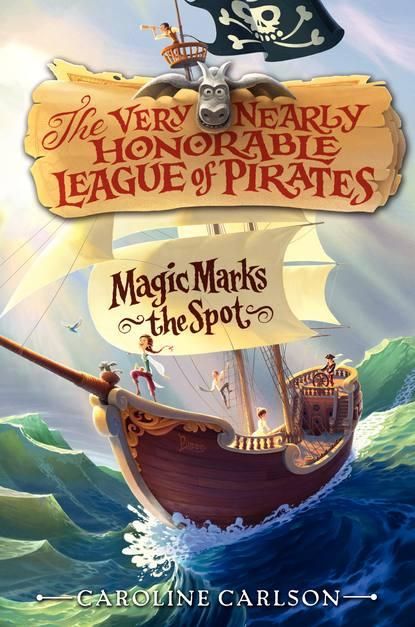 Description from Goodreads: Hilary Westfield has always dreamed of being a pirate. She can tread water for thirty-seven minutes. She can tie a knot faster than a fleet of sailors. She particularly enjoys defying authority, especially if that authority orders her to wear a petticoat. She wouldn't be caught dead eating tiny, crustless sandwiches, and she already owns a rather pointy sword. There's only one problem: The Very Nearly Honorable League of Pirates refuses to let any girl join their ranks of scourges and scallywags.

Girls belong at Miss Pimm's Finishing School for Delicate Ladies, learning to waltz, faint, and curtsy. But Hilary and her dearest friend, the gargoyle, have no use for such frivolous lessons— they are pirates! (Or very nearly.)

To escape from a life of petticoats and politeness, Hilary answers a curious advertisement for a pirate crew and suddenly finds herself swept up in a seafaring adventure that may or may not involve a map without an "X," a magical treasure that likely doesn't exist, a rogue governess who insists on propriety, a crew of misfit scallywags, and the most treacherous—and unexpected—villain on the High Seas.

Will Hilary find the treasure in time? Will she become a true pirate after all? And what will become of the gargoyle?
Are we wide-eyed with excitement yet? Do these sound awesome or what? A new Gaiman middle grade? And what about Anne Ursu? I've heard fantastic things about Breadcrumbs and I just won a copy about a week ago so I will be reading it soon. And the last one? Pirates? It kind of reminds me of that computer game Escape from Monkey Island, and I loved that game when I was a teen. I am SO showing my age right now. ANYWAY, all three of these sound like wonderful, exciting, MGs. Thoughts?
Related Posts