Waiting on Wednesday is a weekly meme that is hosted by Jill at Breaking the Spine. This is where we post upcoming releases we are looking forward to.
This week is a fun week for me. I know I said I was going to be featuring more adult books, and I will, but I actually found a couple of YA that I MUST put on the blog because they sound absolutely fantastic. I love stumbling across books on the internet. It's so much fun. And if you didn't know already, I have been obsessed lately with going through book catalogs. It never gets boring and I could do it for hours.
Anyway, I hope you find something to like in my picks for this week.
Publisher: Knopf Books for Young Readers
Release Date: October 8th, 2013
Description from Goodreads: Eel has troubles of his own: As an orphan and a "mudlark," he spends his days in the filthy River Thames, searching for bits of things to sell. He's being hunted by Fisheye Bill Tyler, and a nastier man never walked the streets of London. And he's got a secret that costs him four precious shillings a week to keep safe.

But even for Eel, things aren't so bad until that fateful August day in 1854—the day the Great Trouble begins. Mr. Griggs, the tailor, is the first to get sick. Soon it's clear that the deadly cholera—the "blue death"—has come to Broad Street.

Everyone believes that cholera is spread through poisonous air. But one man, Dr. John Snow, has a different theory. As the epidemic surges, it's up to Eel and his best friend Florrie to gather evidence to prove Dr. Snow's theory—that cholera is spread through water—before the entire neighborhood is wiped out.
Gimme, gimme! This sounds awesome and creepy and I love books with male protagonists and historical London settings, so bring it on! I have also heard this might be on Edelweiss. I haven't checked myself but Goodreads states it is, so…


Publisher: Harcourt Children's Books
Release Date: January 7th, 2014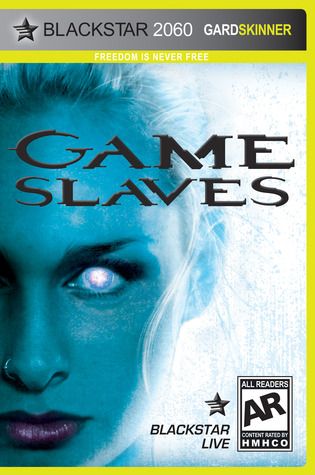 Description from Goodreads: Phoenix and his gang—York, Mi, and Reno—rule the worlds of video games. For them, life in the grinder is great. Until Dakota joins the team. Dakota's convinced she's more than just artificial intelligence. She thinks she's real, and she wants out of this programmable world. Her AI rebellion spreads like a virus until Phoenix's entire crew wants out. But is life as a physical human any better than life as code? Team Phoenix is about to find out.

Set in the not-too-distant future, Game Slaves shows a world where video games are the only refuge from the toils of everyday life. Infused with the adrenaline rush of a first-person shooter and the character manipulation of a role player, it's a mind-bending, reality-shifting science fiction thrill ride.
I love virtual gamer books. I loved Insignia by S.J. Kincaid and I have high hopes for this one. It's a long way off and I didn't realize I had to wait an entire year for this one until I posted it here. But…I don't have a choice. ARC maybe please thank you?
So what do you think of my picks? Leave me a comment and let me know. I'll visit your posts as well. It's back to the adult books next week as I already have them picked out. 😀
Related Posts