Teaser Tuesday is a weekly bookish meme, hosted by MizB of Should Be Reading. Anyone can play along! Just do the following:
Grab your current read
Open to a random page
Share two (2) "teaser" sentences from somewhere on that page
BE CAREFUL NOT TO INCLUDE SPOILERS! (make sure that what you share doesn't give too much away! You don't want to ruin the book for others!)
Share the title & author, too, so that other TT participants can add the book to their TBR Lists if they like your teasers!
Happy Tuesday, my fellow bookish friends! On Tuesday, I usually host my Top Ten Tuesday. However, for this week, I didn't have much to say about the topic, but I sure do miss sharing my thoughts with our readers. So for today, I decided to stray off the beaten path and host MizB's weekly book meme. The book I chose on my reading list is Leigh Bardugo's sequel to Shadow and Bone, Siege and Storm!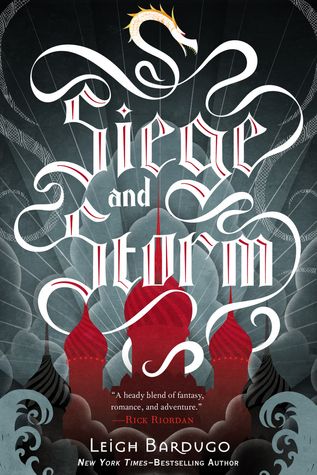 Description from Amazon: Darkness never dies.

Hunted across the True Sea, haunted by the lives she took on the Fold, Alina must try to make a life with Mal in an unfamiliar land, all while keeping her identity as the Sun Summoner a secret. But she can't outrun her past or her destiny for long.

The Darkling has emerged from the Shadow Fold with a terrifying new power and a dangerous plan that will test the very boundaries of the natural world. With the help of a notorious privateer, Alina returns to the country she abandoned, determined to fight the forces gathering against Ravka. But as her power grows, Alina slips deeper into the Darkling's game of forbidden magic, and farther away from Mal. Somehow, she will have to choose between her country, her power, and the love she always thought would guide her–or risk losing everything to the oncoming storm.

Teaser #1:

He'll be back soon enough," she said. "No need to look so glum."

"I know," I replied, feeling foolish. I managed a laugh as we crossed the lawn down to the stables. "At Keramzin, I had a doll I made out of an old sock that I used to talk to whenever he was away hunting. Maybe that would make me feel better."

"You were an odd little girl."

"You have no idea. What did you and Tolya play with?"

"The skulls of our enemies."
Teaser #2:

"Yes, sir," said the sergeant. "Only bothers me when it rains."

"Then I imagine the Fjerdans pray daily for storms. You put quite a few of them out of their misery, if I recall."

What do you think? Are you read to add this one to your TRB list? Leave a comment below!


Related Posts