Welcome to Stacking the Shelves. Stacking the Shelves is a weekly meme hosted by Tynga at Tynga's Reviews. This is where we showcase books we have received or bought during the week.

Where does the week go? I'm always shocked when it it time to once again showcase my out of control spending habits and display my results of compulsive buying.


Out of debt – that is where I would be
This week, I attended a book fair and stopped by a bookstore to kill time. I also found a book I bought last month safely tucked away in the horrible void that is named "the catch-all basket". I have nothing new for the Kindle, but I have plenty of new physical books.




Books

(top to bottom)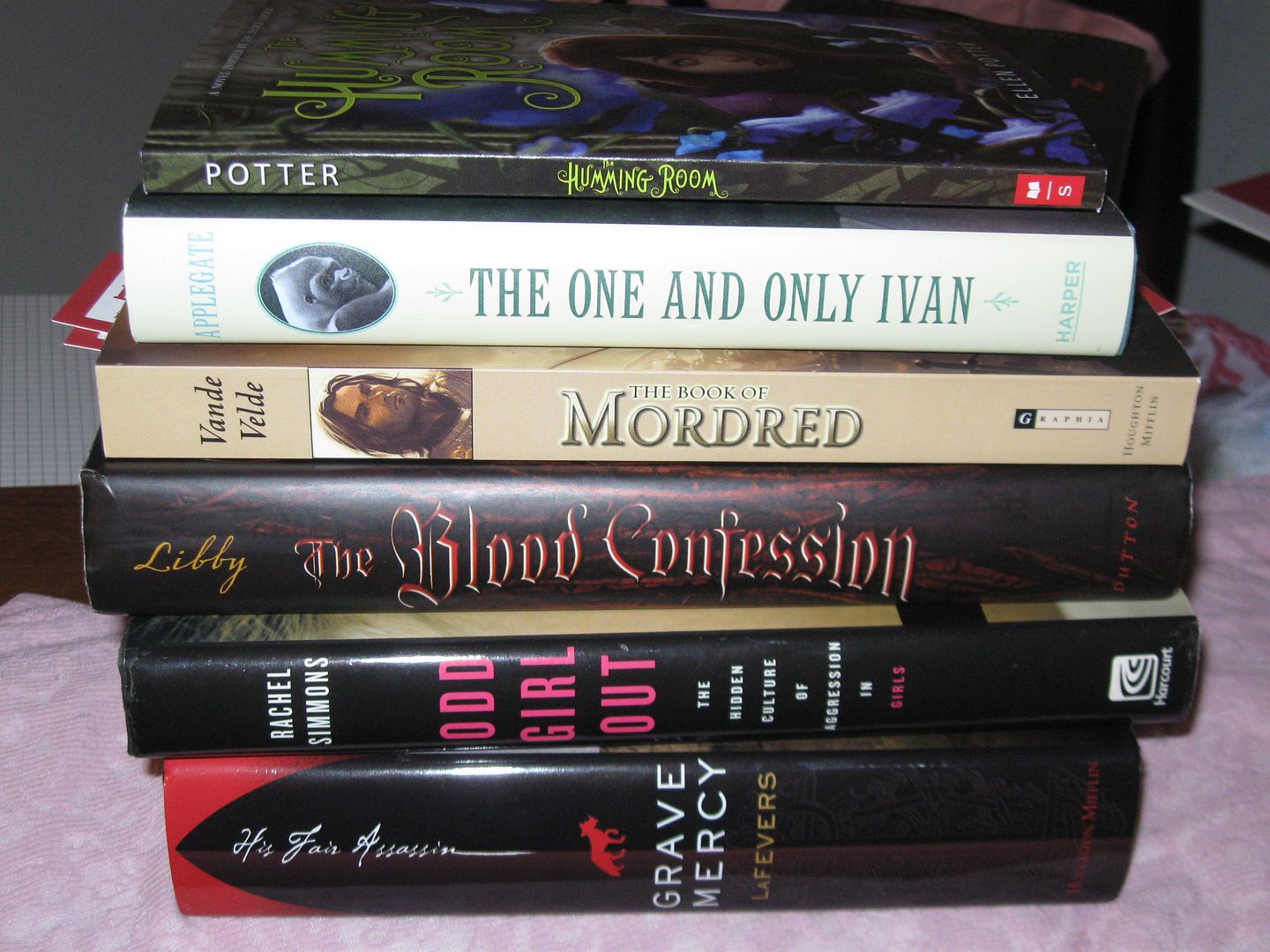 The Humming Room by Ellen Potter – I have wanted this book ever since I saw Kara talk about it. I found a paperback copy at a book fair.

The One and Only Ivan by Kathrine Applegate – The Newbery winner for this year. I also found this at the book fair, and I couldn't pass it up. I'm really excited to read this book.

The Book of Mordred by Vivian Vande Velde – Cover lust. There is my horrible admission. But I did read a portion of the bookstore, and I think it has some potential.

The Blood Confession by Alisa M. Libby – This book is freaking awesome. The pages are stained with (printed) blood! And the description sounds really wonderful. I'm excited to eventually get to this book.

Odd Girl Out: The Hidden Culture of Aggression in Girls by Rachel Simmons – I find this topic very controversial and very interesting. The award-starved movie Mean Girls actually peaked my interest in female aggression, and the small sample I read before purchasing sounded like this book holds some promise.

Grave Mercy by R.L. LaFevers – This is the book I lost for a month. YES, I FINALLY OWN THIS BOOK. The extreme and mixed reviews snagged me, and I'll be interested in my own opinion of this gem.


What did my readers buy this week? Leave me a link below!
Related Posts