Publisher: Katherine Tegen Books
Release Date: March 19th, 2013
Pages: 352
Genre: Young Adult
Source: Electronic ARC via Edelweiss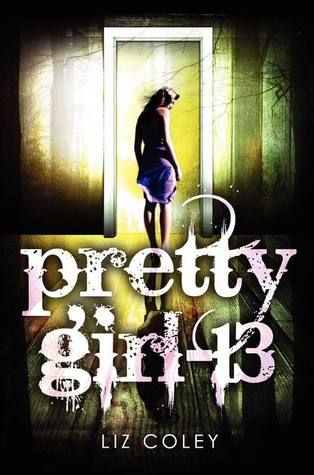 Description from Goodreads: Reminiscent of the Elizabeth Smart case, Pretty Girl-13 is a disturbing and powerful psychological mystery about a girl who must piece together the story of her kidnapping and captivity.

Angie Chapman was thirteen years old when she ventured into the woods alone on a Girl Scouts camping trip. Now she's returned home…only to find that it's three years later and she's sixteen-or at least that's what everyone tells her.

What happened to the past three years of her life?

Angie doesn't know.

But there are people who do—people who could tell Angie every detail of her forgotten time, if only they weren't locked inside her mind. With a tremendous amount of courage, Angie embarks on a journey to discover the fragments of her personality, otherwise known as her "alters." As she unearths more and more about her past, she discovers a terrifying secret and must decide: When you remember things you wish you could forget, do you destroy the parts of yourself that are responsible?

Liz Coley's alarming and fascinating psychological mystery is a disturbing-and ultimately empowering-page-turner about accepting our whole selves, and the healing power of courage, hope, and love.
Woah. This book was many things: Intense, raw, confusing, over-the-top dramatic and at times, oddly out of touch. Pretty Girl-13 attempts to discuss the interesting and controversial topic of dissociative identity disorder. Be warned of you have triggers – this book is a very rough and draining read.
The concept behind the book was highly interesting. If fact, if some of the minor storylines had been cut out of the plot, this book could have stood on its own, based solely on the recovery and rediscovery of Angela's missing time as she attempts to piece together her broken memories through her other personalities. The science behind her disorder was very interesting. If this book had centered on the science of the mental disorder, then it would have been great. The emotional pain really seeped through the words, and the book left me feeling very exhausted and worn down by the time I arrived at the last page.
One of the biggest issues with the book was the constant and unneeded drama and labeling. The book was engaging just on subject matter alone without the onslaught of drama. Some of the things in the book were necessary; I don't want to give anything away (because going on blind into the book was a nice shock), but some of the events in the book were needed to build a background for Angie. However, the boy drama, the weird friends, and a cast of slightly clueless people surrounding Angie just weighed down the storyline. The entire ending was just one huge gloop of shock-drama, and I ended up rolling my eyes at the absurd twist. Angie's friends (except for Kate – I LOVED Kate) caused me to stop and rant for a while as well. They acted completely out of touch, and for a moment, I thought I reading another book entirely, based on their reactions. Angie was a bit hard to relate with, due to some of her own actions and thoughts. Here is a quote that made me nearly throw my Kindle across the room:
"It wasn't supposed to be her job to make her dad happy. It was supposed to be the other way around."
Um, no. I know, she had a horrible thing happen to her. I see that as no excuse to demand, in her head, that her father should make her happy, and that he should disregard his own emotions and cater just to her. Angie constantly came across as selfish. On a brighter notes, she did seem to grow towards the end when confronting one of her former best friends. I'll give Angie points in that regard.
I also don't appreciate the message that dark eyeliner and red lipstick equating to a "slut" label. When are we going to get rid of this in fiction? In the media? In our society? I find it ironic that the author took a stab at the stereotype while having Angie's mom flit over a medical procedure because her daughter's head might be shaved.
In the end, I'll say that I bumped the book up a star because it did grab my attention all the way to the last page. The psychology was also enough to keep the reader engaged. Not a bad book, but it dropped the ball potentially by mixing in outrageous drama just to have the sake of shock value,and selling the other characters short by setting them up to be shallow, clueless, and completely unbelievable.
3/5 Dragons
Related Posts