Publisher: Katherine Tegen
Release Date: March 12th, 2013
Pages: 480
Genre: Young Adult-Science Fiction
Series: Mila 2.0 #1
Source: Edelweiss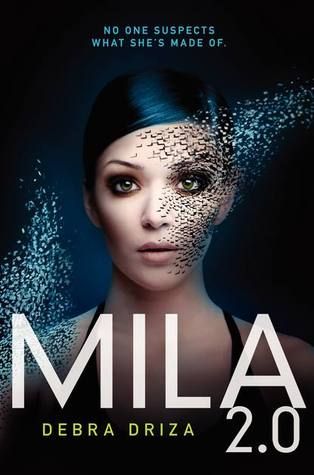 Description from Goodreads: Mila 2.0 is the first book in an electrifying sci-fi thriller series about a teenage girl who discovers that she is an experiment in artificial intelligence.

Mila was never meant to learn the truth about her identity. She was a girl living with her mother in a small Minnesota town. She was supposed to forget her past —that she was built in a secret computer science lab and programmed to do things real people would never do.

Now she has no choice but to run—from the dangerous operatives who want her terminated because she knows too much and from a mysterious group that wants to capture her alive and unlock her advanced technology. However, what Mila's becoming is beyond anyone's imagination, including her own, and it just might save her life.

Mila 2.0 is Debra Driza's bold debut and the first book in a Bourne Identity-style trilogy that combines heart-pounding action with a riveting exploration of what it really means to be human. Fans of I Am Number Four will love Mila for who she is and what she longs to be—and a cliffhanger ending will leave them breathlessly awaiting the sequel.
Review: I finished Mila 2.0 last night, and though the ending could have worked better for me, I thought this was a fantastic debut from Debra Driza. I hated to put this book down, which was unfortunate as I have had little reading time this last week. But finish it I did, and what a page turner it was. Mila 2.0 is filled with suspense, excitement, and some pretty intense action sequences.
The book opens with a girl on a horse. She has a vision. Her mom yells at her for riding too fast, and you think, huh. This is not what I expected. But it's not all that normal for long. The book picks up after a couple of chapters, and from that point on, there is no slowing down. That's why it's so hard to walk away from the story. If you are the type of reader who loves to stop and go with a book, you almost can't do that with this one. So make sure you carve out a chunk of reading time, because you will need it.
One of the things I enjoyed the most about this novel was the author's writing style. It's well-balanced, and a good mix of plot, characters, and description. Though I think the characters could have had a little more depth–I'll get to that in a minute–I do believe that the well-balanced type of writing is the kind that resonates with me the most. I love being able to picture things in my mind but I don't want so much sensory language that it bogs the story down. The book is well-plotted and the pacing is incredibly strong.
But flaws. This book has some. Unfortunately, though I loved Mila as a characters, after some thinking, I have realized I just couldn't connect with her as much as I originally thought I was. I realized this when I got to the end and something major happened and I totally should have been crying (because I am an emotional basket case) but I wasn't. I knew then that something was missing. If a book is supposed to make me cry–that scene was brutal–and it doesn't, I have to deduct. It's a small thing as the rest of the book was SOOO much fun to read, but the characters could have used a little work. Some of them are in and out of the novel so quickly, you don't get much of a chance to know them. That is unfortunate.
One other complaint. There is a lot of action in this book. And I loved it. But…in a few of the scenes I had a hard time picturing what was going on and the descriptions of locations and character movements didn't seem clear to me. Like in the obstacle course scene toward the end? The way some of the buildings and places were described left me confused and unable to picture where they were located. Again, not a very big deal, but something I had to mention because it did detract from my enjoyment a little bit.
Ultimately though, clocking in at 480 pages, this book was one wicked ride that did not even feel close to that length. And I wanted more. So much more. I have to applaud the author for her ability to weave a story that kept me excited and flipping those pages until the end. I may not have been surprised by the ending, and there's not really a twist, but I enjoyed the entire book and cannot wait for the next.
Purchase MILA 2.0 from Amazon.com
Related Posts