Waiting on Wednesday is a weekly meme that is hosted by Jill at Breaking the Spine. This is where we post upcoming releases we are looking forward to.

I have officially ran out of current book catalogs to pick books from, so the books I Have for you this week I found on Goodreads. Which means you may have seen them already, but I have chosen them because they are of great interest to me and I am anticipating them like CRAZY!


Publisher: Delacorte
Release Date: June 11th, 2103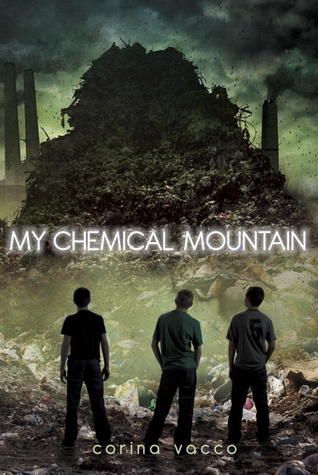 Description from Goodreads: Rocked by his father's recent death and his mother's sudden compulsion to overeat, Jason lashes out by breaking into the abandoned mills and factories that plague his run-down town. Always by his side are his two best friends, Charlie, a fearless thrill junkie, and Cornpup, a geek inventor whose back is covered with cysts. The boys rage against the noxious pollution that suffocates their town and despise those responsible for it; at the same time, they embrace the danger of their industrial wasteland and boast about living on the edge.

Then on a night the boys vandalize one of the mills, Jason makes a costly mistake–and unwittingly becomes a catalyst for change. In a town like his, change should be a good thing. There's only one problem: change is what Jason fears most of all.
Release Date: June 11th, 2013
Description from Goodreads: Ben: Having just graduated from high school, Ben is set to leave Gypsum, Nevada. It's good timing since the gypsum mine that is the lifeblood of the area is closing, shutting the whole town down with it. Ben is lucky: he's headed to San Diego, where he's got a track scholarship at the University of California. But his best friends, Pete and Hog Boy, don't have college to look forward to, so to make them happy, Ben goes with them to check out the hot chick parked on the side of Highway 447.

Lala: She and her Gypsy family earn money by telling fortunes. Some customers choose Tarot cards; others have their palms read. The thousands of people attending the nearby Burning Man festival spend lots of cash–especially as Lala gives uncanny readings. But lately Lala's been questioning whether there might be more to life than her upcoming arranged marriage. And the day she reads Ben's cards is the day that everything changes for her. . . and for him.
It looks like quite a few people have added Burning to their TBR already, but the first time I saw it was on Goodreads this past week. So hopefully it will still be a nice surprise to a few of you. I've had Mu Chemical Mountain on my TBR for what seems like FOREVER. I love the cover of that book, as depressing as it is. Leave me your thoughts below and I will try to stop by your posts. Happy reading!
Related Posts