Publisher: Scholastic
Release Date: January 1st, 2013
Pages: 304
Genre: Young Adult-Paranormal
Source: NetGalley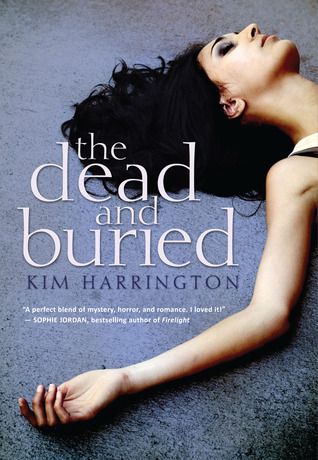 Description from Goodreads: Jade loves the house she's just moved into with her family. She doesn't even mind being the new girl at the high school: It's a fresh start, and there's that one guy with the dreamy blue eyes. . . . But then things begin happening. Strange, otherworldly things. Jade's little brother claims to see a glimmering girl in his room. Jade's jewelry gets moved around, as if by an invisible hand. Kids at school whisper behind her back like they know something she doesn't.

Soon, Jade must face an impossible fact: that her perfect house is haunted. Haunted by a ghost who's seeking not just vengeance, but the truth. The ghost of a girl who ruled Jade's school — until her untimely death last year. It's up to Jade to put the pieces together before her own life is at stake. As Jade investigates the mystery, she discovers that her new friends in town have more than a few deep, dark secrets. But is one of them a murderer?
Review: I didn't review Kim Harrington's debut novel, Clarity, on this blog, but I read it recently and I really liked it. I really became a fan of the author's voice and I warmed up to the protagonist immediately. I didn't like Perception quite as much, but I still enjoyed it. So I was really looking forward to The Dead and Buried. Imagine my surprise to find that I didn't really enjoy it as much as I was hoping I would. It's hard to explain, but I feel like something was missing from this book.
For one, I knew who the killer/culprit was pretty much from the very beginning. If you use process of elimination, it's not really that hard to figure out. What I couldn't pin down was the motive. So in some ways it surprised me, but when you know who did it from the start, there is a lack of excitement for the reader.
Days later and I can't even remember the characters or their names all that well. It's just a very unmemorable book. To me, Jade was a typical YA paranormal protagonist. There was nothing about her that stood out, nothing that made her a favorite. The same goes for the love interests Donovan and Kane. And her friend Alexa. I feel like the author TRIED to rid the characters or stereotypes and do something different, but at the same time I feel like the execution failed. There just wasn't enough development there to really pull me into the story or its characters.
I wasn't scared and I didn't find anything special in the writing. The blurb makes this book sound like it might be a creepy book, but it honestly did nothing for me. The ghost isn't scary, she's just mean. Truthfully, this book reminds me a lot of the R.L. Stine Fear Street books from the 90s, the only difference being the writing was a little more skilled.
I know it sounds like I hated the book, but I didn't. I just didn't find anything original here, and as a reader that is one of the things I am looking for the most. The things that make me love a book are usually beautiful prose, imagery, wonderful characters, and originality. And there just wasn't a lot of that here. But the story was compelling enough and I kept turning the pages, so that's why it gets a 3 star rating from me.
3/5 Dragons
Buy The Dead and Buried from Amazon
Related Posts