Waiting on Wednesday is a weekly meme that is hosted by Jill at Breaking the Spine. This is where we post upcoming releases we are looking forward to.
This week I decided to participate in Waiting on Wednesday because I had a blog tour scheduled for Tuesday and I try to only post once a day. But I'm glad I did this meme this week because I have a couple of great books that I haven't seen anywhere else (though I do not have eyes everywhere), and I have added them to my TBR pile. I can't wait to get my hands on them. Hopefully they are new to you too.
Spoils by Tammar Stein
Description from Goodreads: When Leni's family hit the lottery, life got…well, strange. Leni's parents built a mansion fit for royalty; they enrolled their daughter in the fanciest, most expensive private school in Florida; and they even bought Leni a dolphin for her 12th birthday (she made them take it back). But all of that extravagant living has caught up with them and the lottery money is about to run out-except for the large trust fund Leni will inherit on her 18th birthday, now only a week away. Leni is prepared to give her parents the money until her sister, Natasha, confesses a shocking secret-one that threatens to destroy their entire family. Leni has been ordered to fix it, but how?
Zebra Forest by Adina Rishe Gewirtz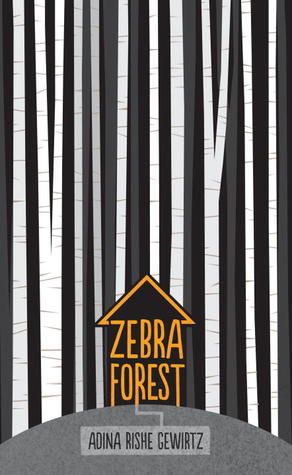 Description from Goodreads: When eleven-year-old Annie first started lying to her social worker, she had been taught by an expert: Gran. "If you're going to do something, make sure you do it with excellence," Gran would say. That was when Gran was feeling talkative, and not brooding for days in her room — like she did after telling Annie and her little brother, Rew, the one thing they know about their father: that he was killed in a fight with an angry man who was sent away. Annie tells stories, too, as she and Rew laze under the birches and oaks of Zebra Forest — stories about their father the pirate, or pilot, or secret agent. But then something shocking happens to unravel all their stories: a rattling at the back door, an escapee from the prison holding them hostage in their own home, four lives that will never be the same. Driven by suspense and psychological intrigue, Zebra Forest deftly portrays an unfolding standoff of truth against family secrets — and offers an affecting look at two resourceful, imaginative kids as they react and adapt to the hand they've been dealt.
And those are my picks for this week. I hope there is something new here you haven't seen before. I am really excited about both of these because of how unique and strange they sound. I am definitely a fan of the unique and strange. Leave me a comment and I will try to come visit your posts. I'm sick though, so it depends on if I am feeling up to it. Thanks for stopping by!
Related Posts