Publisher: Feiwel and Friends
Release Date: February 5th, 2013
Pages: 464
Genre: Young Adult-Dystopian
Source: I received an ARC from the publisher.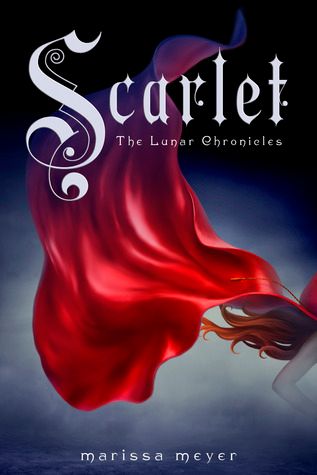 Description from Goodreads: Cinder returns in the second thrilling installment of the New York Times-bestselling Lunar Chronicles. She's trying to break out of prison—even though if she succeeds, she'll be the Commonwealth's most wanted fugitive.

Halfway around the world, Scarlet Benoit's grandmother is missing. It turns out there are many things Scarlet doesn't know about her grandmother and the grave danger she has lived in her whole life. When Scarlet encounters Wolf, a street fighter who may have information as to her grandmother's whereabouts, she has no choice but to trust him, though he clearly has a few dark secrets of his own.

As Scarlet and Wolf work to unravel one mystery, they find another when they cross paths with Cinder. Together, they must stay one step ahead of the vicious Lunar Queen who will do anything to make Prince Kai her husband, her king, her prisoner.
Review: I'm not great at gushing. In fact, I suck at it. For me, writing five star reviews is sometimes more difficult than writing one star reviews. So writing about all the love I felt for this book is going to be pretty awkward. Just know that I very, VERY much enjoyed it and I am going to keep this review fairly short.
I enjoyed Cinder very much when I read it last year. But there was something missing for me. I don't know if I lacked that emotional connection to the text or there was that extra spark missing, but whatever it was, it wasn't present in Scarlet. Everything that makes a book perfect for me was present in Scarlet. Well-developed characters, suspense, kick-ass writing, tight plotting, even pacing, EPIC world-building, etc. I cannot say enough times how much I loved this book.
Cinder was a wonderful character in the first book and her growth continues in the second. But the NEW characters that were introduced in Scarlet absolutely bowled me over. I loved Wolf, and I adored Scarlet Benoit. Wolf is a swoonworthy bad boy without being threatening and staker-like. He's flawed, deeply developed, and written in a way that will make almost any reader sympathize with his character. Same with Scarlet. YA bloggers are always asking for heroines we can root for. Heroines with strength, emotion, and the ability to stand on their own two feet. This is Scarlet. She is not flawless and sometimes she needs Wolf. But who doesn't have to rely on their friends from time to time when things get tough?
There were many things I loved about Scarlet but I think my favorite was the writing. I fell for the author's style immediately; her word choices, sentence structure, and flow are perhaps some of the best I have seen over the last couple of years since I have been blogging. I love the way she paced the story, wove the chapters together from different POVs (which is not easy to do), and managed to make it all come together in the end. This was a beautiful book with breathtaking world-building by a wonderfully talented author.
Reviewing sequels is difficult because there is not a whole lot I can say plotwise without ruining the story for someone who hasn't read it. But that's okay because I think I managed to convey how I felt for this book. It kept me turning the pages late into the night in awe over the voices of the characters, the brilliant dialogue, and even the fonts that headed up the chapters. I was a fan of the series before, but it has become one of my absolute favorites. Fairytale retellings have never been so good.
5/5 Dragons
Buy Scarlet from Amazon
Related Posts