Publisher: Amulet
Release Date: January 1st, 2013
Pages: 384
Genre: Young Adult-Fantasy
Source: NetGalley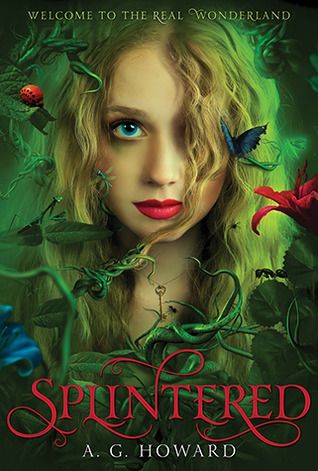 Summary from Goodreads: This stunning debut captures the grotesque madness of a mystical under-land, as well as a girl's pangs of first love and independence. Alyssa Gardner hears the whispers of bugs and flowers—precisely the affliction that landed her mother in a mental hospital years before. This family curse stretches back to her ancestor Alice Liddell, the real-life inspiration for Lewis Carroll's Alice's Adventures in Wonderland. Alyssa might be crazy, but she manages to keep it together. For now.

When her mother's mental health takes a turn for the worse, Alyssa learns that what she thought was fiction is based in terrifying reality. The real Wonderland is a place far darker and more twisted than Lewis Carroll ever let on. There, Alyssa must pass a series of tests, including draining an ocean of Alice's tears, waking the slumbering tea party, and subduing a vicious bandersnatch, to fix Alice's mistakes and save her family. She must also decide whom to trust: Jeb, her gorgeous best friend and secret crush, or the sexy but suspicious Morpheus, her guide through Wonderland, who may have dark motives of his own.
Review: Man, I hate when I don't love a book as much as most other readers I know have. I always feel like I am going to have cream pies and tomatoes thrown at my face. This is how I feel about Splintered. I was looking forward to reading this book more than anything. I read my ARCs in order so I try to read them within thirty days of their publish date. I kept seeing these awesome reviews coming in and every now an then I would see one from someone who didn't like it. But for the most part, they were raving. And I hoped that would be me. But…it's not.
Before I talk about what I didn't like (and prepare yourself for a disjointed mess, because articulating my thoughts will be tough), I want to talk about the good things. One thing I really loved about this book was the atmosphere. The world-building. I think the author captured the essence and feel of Wonderland really well. Her Wonderland was very different than any other Wonderland I have ever read or watched on TV, but I liked it. It was darker and grittier than the original, and I really got into that part of it. I enjoyed it very much.
The character of Alyssa, a descendant of the original Alice Lidell that Lewis Carroll's book was based on, was an okay character, but she was a little too much of a helpless heroine for me. She had to be rescued a lot, and more often than not she just fell into a solution without actively solving anything. She was definitely not a strong female. She was a tool to be used by the inhabitants of Wonderland for their own agendas on numerous occasions. I didn't feel she was as developed as well as she could have been, but I did feel for her all the same because of the situation with her mother. I liked that whole part of the story quite a bit and I loved the way THAT part of the story unfolded. But other aspects of the book *cough* the romance *cough* made the story fall apart for me.
That's right. The romance. Jeb mainly. I did not like him at all. He was controlling, condescending, jealous, and I did not like the way he treated the protagonist at all. He did change by the end of the book, but it was a little too late for me. Because of most of his behavior throughout the book, I was not going to change my opinion on him. Once a jerk, always a jerk and all that. Morpheus was ALSO a jerk. But that was his personality from the very beginning and he didn't try to hide it. Plus, as a denizen of Wonderland, that was kind of his thing and all. It was Jeb that irritated me.
I also kind of felt that the romance in this book was unnecessary and tacked on. And this is where I kind of have to make an example out of this book. It seems that every young adult book these days featuring a female protagonist has romance in it. WHY IS THAT? Do publishers think that teenagers won't read about a female protagonist unless she is falling in and out of love? Because this book, THIS BOOK, would have been just as good if not better without the romance. There would have been more time to expand the storyline and built the mother/daughter familial relationship. And it annoys the shit out of me that that did not happen because of a stupid, icky love triangle that was completely unnecessary to the storyline. I also think this is why I tend to steer myself towards the books with male protagonists. They are usually more about the story than a romance. I KNOW there are exceptions to this rule. But for the most part…
The writing was okay. Like I said earlier, I loved the world-building, most of the storyline, and the way the author painted her vision of Wonderland. But some of the writing–especially in the beginning–was a bit awkward. There were spots where the author decided to tell me something and I would have preferred it in dialogue. There was a little too much summarizing for me. Some of the dialogue was corny. See my Goodreads status updates for that.
I don't know. This book was decent but I had a lot of problems. I could go on for days about how the story kind of fell apart in the second half and it went way off on a tangent that even I could not follow. And this is Wonderland. It's supposed to be wacky. But not THIS wacky. But I've already gone on for long enough now and I know once you reach a certain point in your reviews people stop reading, so this is where I call it quits.
Do I recommend this one? With reservations. As far as Alice retellings go, this was miles ahead of Alice in Zombieland, but it still wasn't THAT good. Do I think it was over-hyped? Oh hell yeah. But I also do think that I am kind of in the minority on this one and that most people love it. So I wouldn't NOT read it based on my review. Sometimes I just don't click with a book and that is totally okay.
3/5 Dragons
To purchase
Splintered
from Amazon.com, click here:
Pre-Order Splintered
. I am an Amason Associate and I will earn a commission if you buy from my links, so please do!
Related Posts