Time for another 5 star giveaway! I finished this one a few days ago and I can't stop thinking about this book. It was that good. I hope whoever wins this copy loves it as much as I did. This time I am giving away The Language of Flowers by Vanessa Diffenbaugh. All year long I have been giving away books I have assigned a 5 star rating to. The books I have given away so far are: Five Flavors of Dumb, Behind the Beautiful Forevers, Shadows on the Moon, Inhale, Shadow and Bone, Girl in Translation, Insignia, The Girl Who Circumnavigated Fairyland in a Ship of Her Own Making, Stormdancer, and NOW The Language of Flowers!

I received this book from LibraryThing's Early Reviewers program. It took me awhile to get to it, but I am so glad I finally did. I'm not sure this book will be an all-time favorite, but I really did enjoy it and I know I want someone else to have the chance to read it. It was time well spent and tears worth shedding. Most people I know really liked this book.

I am posting the blurb and cover below just in case you have not heard about the book or you want to find out more about it.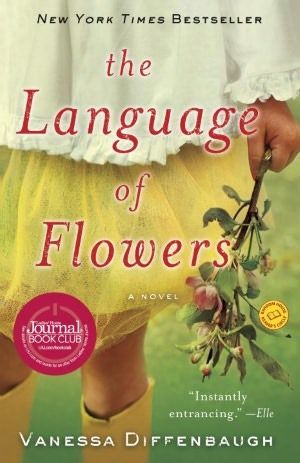 Blurb: The Victorian language of flowers was used to convey romantic expressions: honeysuckle for devotion, asters for patience, and red roses for love. But for Victoria Jones, it's been more useful in communicating mistrust and solitude. After a childhood spent in the foster-care system, she is unable to get close to anybody, and her only connection to the world is through flowers and their meanings. Now eighteen and emancipated from the system with nowhere to go, Victoria realizes she has a gift for helping others through the flowers she chooses for them. But an unexpected encounter with a mysterious stranger has her questioning what's been missing in her life. And when she's forced to confront a painful secret from her past, she must decide whether it's worth risking everything for a second chance at happiness.
If you are interested, you can read my 5 star review of The Language of Flowers here.
This giveaway is International. If you are in the US, I will be shipping from Amazon. If you are international, I will be shipping from The Book Depository. This giveaway is for a trade paperback of The Language of Flowers by Vanessa Diffenbaugh. You can read the synopsis and other reviews on Goodreads here. Enter using the Rafflecopter form below. Contest will end on 10/24/12 at midnight.
One email address per household. One Twitter account per entrant. Winner has 48 hours to respond or another winner will be chosen. I will be checking and disqualifying any entries that are trying to cheat and game the system.
Related Posts