TGIF is hosted by Ginger from GReads!
Yay, yay, yay! This is the first time I am participating in this meme. Why did I decide to? Because of this week's topic! I just couldn't pass it up. I heard about it from Shannon at Books Devoured because I made her list. List of what, you ask?
Pick 5 book blogs you visit often & think others should, too.
Okay, I can do that. In fact, it was extremely easy to come up with 5 of my favorite blogs. The thing is is that there were a few blogs I wanted to include but couldn't because I am only allowed 5 and I certainly don't want to cheat on my first time out. But just so everybody knows, there are about twenty or so blogs that I read regularly.
Shannon is great. No seriously. She's just great. Her blog is amazing. I love the design, I love the topics, and I love her reviews and reading choices. I pretty much agree with almost everything she says, so if you are looking for another blogger with the same tastes as me (almost), then Shannon is the girl for you. Her blog is a little more YA focused than mine, but she's a brilliant writer and smart as a whip. She's super nice and I have been a fan of her blog pretty much since I started blogging. We talk on twitter and I am extremely thankful for that. And her. So yeah.
And I also gotta include Rachel and Fiktshun. Her blog design is probably my favorite of all the blogs. She runs like 4 different sites and hosts some amazing giveaways. Plus, she's super nice and her reviews are great too. She's got all the latest and greatest info and I love her writer's voice. Whenever there is something going on in the book blogging community, I usually find out about it from Rachel. That's because she is always on top of things. Frankly, I don't know how she does it.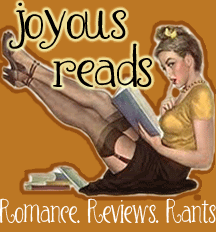 Joy has been a staple in my life since I joined Goodreads and Twitter. When I started my blog, Joy didn't have one yet. But some great bloggers talked her into starting one because her reviews were so fabulous and she has never looked back. And it comes as no surprise that she rocks at it! This lady is one serious bibliophile. Her IMM's always blow mine away. I could never afford her book lifestyle, but I sure love looking and commenting on them. I have never seen anyone assimilate into a community faster than Joy. She really belongs here.
Jaime is a fantastic person. Again, she is someone that I've known pretty much since I joined Twitter. Whenever I have a question, she always has the answer. She's a lovely person and she's always going to these great bookish events on the west coast and blogging about them. Sure, I'm super-jealous, but I really love to read her posts too! She's met some great authors and she really knows how to network as a book blogger. She's really someone to look up to and if you aren't familiar with her blog, then you are now. She also comes up with some great blogging ideas, and she is just a great blogger overall. She also does great things for the indie community. And that's huge!
This is a new addition for me. I just discovered Lea's blog very recently. I'm not sure she even knows who I am. So why include her? Because she possibly writes the best reviews I have ever seen. I don't think I am exaggerating. Every review she writes, I read. Even if it's a book I haven't read or am interested in. I love her writer's voice so much. And her personality really comes through in her writing. She's also got a great blog. It's gorgeous. And she's a librarian. And she's pretty. But mostly I am blown away because of her reviews. I can only hope that mine reach that level of greatness someday.
There are so many other great blogs out there that I couldn't include. Honorable mentions go to Andrea, Lena, April, Giselle, Mickey, and anyone else I may have missed.
Related Posts