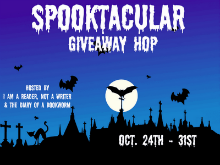 Welcome to my stop on the Spooktacular Giveaway Hop. I have actually really been looking forward to participating in this giveaway hop because I have a really great prize for you!
Great Imaginations is giving away a brand new copy of Stephen King's new novel, 11/22/63. The prize will be a preorder because the book doesn't come out until November 8th, but I will order the winner's copy immediately following the end of the contest.
Summary:
November 22nd, 1963 was a rapid-fire sequence of indelible moments: Shots ring out; a president slumped over; a race to the Dallas hospital; an announcement, blood still fresh on the First Lady's dress. But what if President John F. Kennedy didn't have to die; if somehow his assassin could have been thwarted? For Maine schoolteacher Jake Epping, those hypothetical what if's become real possibilities when he walks through a portal to the past. Without special skills and still unfamiliar with his new/old surroundings, he struggles to discover a way to change the history he left. Like its Under the Dome predecessor, Stephen King's 960-page novel shows that this master of suspense is back at the top of his game.
Rules:
Giveaway entrants must be 16 years or older.
Giveaway is international as long as the book depository ships to you. Book will be ordered from either Amazon.com or the Book Depository.
Giveaway begins on 10/24/11 at midnight and ends on 10/31/11 at midnight.
The prize drawn will be 1 hardcover copy of 11/22/63.
To enter, follow the instructions in Rafflecopter below.
Related Posts